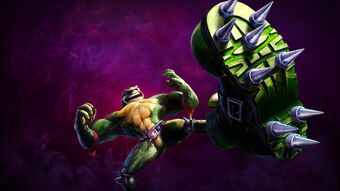 Rash's Extended Story was a narrative released on the official Killer Instinct website to serve as a non-canon backstory for guest character Rash in Killer Instinct (2013).
Rash's Story
[
]
Rash is a member of the Battletoads, an elite spacefaring trio who love nothing more than brawling their way through the galaxy, taking down evil and looking sharp in the process. Impulsive Rash is the joker of the pack, very rarely seen without his distinctive shades.
Cruising the cosmos on board the Vulture with teammates Zitz and Pimple and their mentor, the irascible Professor T. Bird, he seeks any opportunity to pursue justice with a side serving of immense collateral damage.
Rash is not only comfortable with melee combat, he thrives on it. Like the other 'Toads, he can transmute parts of his body to deliver devastating Smash Hit attacks, capable of taking out everything from oversized alien rats to monstrous cyborgs. Hard experience has also granted him a mastery of support equipment including the speeder bike from the notorious Turbo Tunnel incident.
External Links
[
]
Rash's Character Page on the official Killer Instinct Website