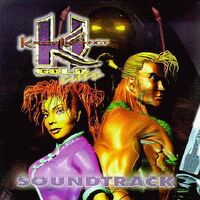 Information
| | |
| --- | --- |
| Release Date | 1996 |
| Composer(s) | Robin Beanland |
Killer Instinct Gold Cuts is the official soundtrack of Killer Instinct 2/Gold, released in 1996. It is the sequel to the original game's soundtrack, Killer Cuts.
It was followed up almost 18 years later with the release of Killer Instinct: Season One Soundtrack + Original Arcade Soundtrack, the official soundtrack of the rebooted game that was released in 2013 for the Xbox One.
Tracklist
Title Tune - 1:23
Select - 0:56
Maya (Game Version) - 2:10
Maya (Remix) - 5:09
Sabrewulf - 1:53
Jago (Game Version) - 2:20
Jago (Shakuhachi Remix) - 2:15
Combo - 1:40
Tusk - 2:00
Kim Wu - 1:58
Orchid - 2:34
Glacius - 1:51
Fulgore - 2:07
Spinal - 2:57
Gargos - 2:55
Training Mode - 6:26
Notes
"Maya (Game Version)" and "Maya (Remix)" features uncredited vocals by Mark Betteridge
"Combo" and "Orchid" features uncredited vocals by Faye Newborough
"Combo" features uncredited vocals by Kev Bayliss
"Combo" and "Spinal" features uncredited vocals by Team Rare
Additional Credits
Grant Kirkhope - live guitar and trumpet on tracks 1, 2, 5, 9, 13, and 15
The Lads - chants and sound FX
Trivia
This is, by far, the shortest KI soundtrack overall, ranging at only 40 minutes, 25 seconds.
The themes of Orchid, Maya and Combo, respectively, are the official credits themes for all versions of Killer Instinct 2 (including the Gold version released for the Nintendo 64).
This is the only soundtrack where the character themes are titled by the names of those involved in the KI2 roster.
The theme of the secret Sky Stage in KI2/Gold is not included in this soundtrack, nor is it even officially titled. This marks the first KI soundtrack where a stage's theme is not included.

Also, this marks the first secret stage theme not represented in an OST (the original game had secret stages, but they've mostly had themes based on certain characters (except the Chicago Alley stage, which had the track "Freeze" as the main theme)).
External links
Killer Instinct Gold Cuts on VGMdb.net