Instinct Mode
is a new mechanic introduced in
Killer Instinct (2013)
.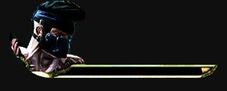 Instinct Mode is a special technique that causes the user to become infused with energy that enhances their abilities. All combatants can do this.
[1]
Execution
A special orange bar is located under the combatant's health bar. This meter builds primarily through taking damage and through successful Combo Breakers. Once it's full, a combatant can activate it by pressing (HP+HK) while in a neutral state, or in the middle of a combo to reset the Knockdown Value. If used to cancel a combo, it resets the Knockdown Value Gauge to zero, allowing the combatant to stack even more damage to their combo. It can also cancel an Ultra Combo to extend the Ultra Combo even further, even into another Ultra. Each Instinct Mode is different for each character and gives them a unique mechanic, property, or new move while their Instinct is active.
List of Instinct Modes
Information in italics denotes information not provided in the in-game command list.
Previous Instinct Modes
Throughout the updates of Killer Instinct, the game is rebalanced in many ways. One of these ways is changing Instinct Modes, and some characters have had their Instinct Modes vastly changed.
Spinal - Skull Summon: Spinal begins to steadily regenerate skull stocks over time. Removed in Season Three.
Fulgore - Blast Core: Fulgore's reactor immediately reaches max spin speed and generates continuous reactor pips, regardless of how aggressively the player fights. Removed in the 3.6 update.
Shadow Jago - Gargos Focus: Shadow Jago's Endokuken is replaced with a Double Endokuken. Each Endokuken hit (including Shadow Endokuken hits) that connects heals 1.75% health, and Shadow Jago also earns extra frames of hit advantage on all moves. Only present in the playable version until the Real Boy Edition release.
Shadow Jago - Gargos' Fury: Shadow Jago gradually drains Shadow Meter from his opponent and adds it to his own for the duration of Instinct Mode. Only present in the boss version until the Real Boy Edition release.
Gallery
References
Community content is available under
CC-BY-SA
unless otherwise noted.